In terms of weather, June is a good month to visit Amsterdam.
Overall you can expect quite a bit of sunshine, with lots of blue skies and a normal average temperature of 15° C (59° F) — and daytime highs of 19-20° C (66.2-68° F).
Mind you, the Dutch grew up with this more of less standard weather forecast for this time of the year: In the morning sunshine and here and there' some rain; in the afternoon sunshine with now and then a shower. (A brilliant forecast, right?)
Fortunately the rain showers tend to be rather short and scattered.
As for the sunny part, it is rare that you see a completely blue sky, because the sun often has to compete with — for the most part — cumulus clouds.
Amsterdam Weather Forecast, June 2020
Updated June 26, 2020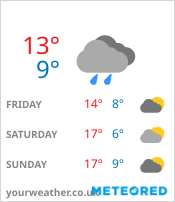 As a service to our readers we update this page with weather forecasts throughout the month of June.
During the rest of the year the general Amsterdam climate information on this page will be helpful.
Where to swim in and around Amsterdam
Saturday, June 27, 2020 Mostly cloudy today, but a bit sunnier in the late afternoon and early evening. Various weather forecast services all agree it's going to rain, but they disagree as to when and how much. Some foresee light rain from late morning through late afternoon. Others warn of heavy rain or rain showers from early morning until about mid afternoon, followed by light rain the rest of the day. Daytime high temperature 21° Celsius (69.8° Fahrenheit).
Sunday, June 28, 2020 Partly cloudy in the morning; sunny intervals in the afternoon, and abundantly sunny from late afternoon through sunset. No rain. Afternoon high 19° Celsius (66.2° Fahrenheit).
Monday, June 29, 2020 Cloudy, with some sunny intervals. No rain until shortly before midnight. Afternoon high temperare 18° Celsius (64.4° Fahrenheit).
Tuesday, June 30, 2020 Scattered light rain showers from just before midnight through about mid evening. Afternoon high 17° Celsius (62.6° Fahrenheit).
Long Term Forecast
Check our July weather forecast for Amsterdam.
Where our weather information comes from
Our weather information is based on long-term averages as reported by various meteorological services, including the Koninklijk Nederlands Meteorologisch Instituut (KNMI) — the Royal Netherlands Meteorological Institute (KNMI).
Normally Amsterdam is extremely crowded during June, July and August. That's why you would get tickets for museums, tours, public transport ahead of time — from our trusted partner, GetYourGuide. During the aftermath of the Coronavirus crisis this is also a good place to check whether or not attractions will be open yet during your planned visit.
Currently most Amsterdam hotels are open for business, but the number of guests are limited so as to observe social distancing rules. Check these Booking.com hotel deals.
Normal lows and high in June:
1-10: 10.6 / 19.4° Celsius (51.08 / 66.92° Fahrenheit)
11-20: 10.8 / 19.2° Celsius (51.44 / 66.56° Fahrenheit)
21-30: 11.7 / 20.3° Celsius (53.06 / 68.54° Fahrenheit)
We update this Amsterdam Weather in June information throughout the month..
Amsterdam Weather Facts: June
Temperatures
• Average lows: 10° C (50° F)
• Average highs: 20° C (68° F)
Sunrise & Sunset
• June 1 – 5:25 a.m. / 9:21 p.m (Oh, take a look at how the Dutch tell time)
• June 30 – 5:22 a.m. / 22:06 p.m.
Rainfall
• Average: 73 mm (2.9 inches) in 72 hours
What to wear in Amsterdam in June
For the most past it's shorts and T-shirts weather — or, as the case may be, skirts and tops or summer dresses. Short sleeves!
Jeans, light slacks, or — if you tend to be on the cold side — light sweats are fine, too, especially at night.
As always you should plan for a mix of weather: lots of sunshine interspersed with (brief) showers and/or overcast days.
Don't go overboard with the rain gear. The weather is mild, even when it rains and/or is overcast. If thundershowers are in the forecast it can be muggy as well.
You'll just have to play it by ear. If it looks like it's going to rain for quite some time, visit a museum and/or catch a movie. If only showers are expected, enjoy the outdoors and pop into a pub, coffeeshop (or coffee house) or an eatery for a while.
When it's sunny and the skies are blue, you can take fantastic photos in Amsterdam.
Just remember: your pictures will have the bluest skies when you shoot them while standing with your back turned toward the sun. Otherwise the sky tends to come out rather white.
Amsterdam Climate
General information about the weather in Amsterdam
Local weather during other months
Our weather information is based on long-term averages as reported by various meteorological services, including the Koninklijk Nederlands Meteorologisch Instituut (KNMI) — the Royal Netherlands Meteorological Institute (KNMI).
Hello! Our original content is protected by © Copyright DutchAmsterdam .nl


Do not republish or repost.
GetYourGuide is our Trusted Ticket Partner
Why stand in line during your vacation? Beat the crowds by booking
Tours, Skip the Line Tickets, Museums, Excursions and Activities
online.
Your GetYourGuide Ticket Advantage:
Authorized Ticket Seller
Verified legal tour operators
Printed or Mobile Voucher Accepted
Skip-the-Line (if available)
Instant Confirmation
Easy Cancellation